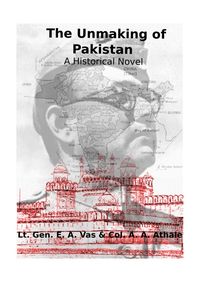 The central figure of this work of fiction is the late Indian leader, Subash Chandra Bose. Over fifty years ago, one of the enduring human tragedies occurred when the Indian sub-continent was divided on religious lines. Nearly one and half million innocent people lost their lives during that partition. Even till today, one fifth of humanity, living in south Asia, continues to pay the price of that division. The book is set in a historical framework that covers the period 18 August 1945 to 30 November 1948. This historical framework is based on facts, and many of the players that move within this frame are real world figures. The forces at play in India and on the international stage during that period have not been invented. This gives the fictional story the effect of verisimilitude. But many conclusions and characters have been invented and their dialogue is often pure fiction.

The book attempts to answer two historical questions, which no Indian or British historian has yet attempted to explain satisfactorily. The first question is: why did Lord Wavell, the Viceroy, on 11 June 1945, abruptly call off the Simla talks when all the political parties favoured the creation of a united India? The second question arises from the British Cabinet's statement that the transfer of power to Indians would take place by June 1948. Lord Louis Mountbatten as Viceroy, had insisted on this cut-off date when he went to confer with the Cabinet in London in May 1946. Why, then, on his return from London a fortnight later, did he then suddenly declare that the partition of India would take place with inexplicable haste on 15 August 1947, almost a year ahead of schedule?

The authors also raise a third hypothetical question, which is continually posed by millions of Indians and Pakistanis: What would have happened if Bose had lived? Would the partition of India have taken place? Would there have been a civil war?

Bose's death in a plane crash, reported in August 1945, was mourned by millions of his admirers. The novel presumes and explains how he survives, why he remains in hiding, and how the news of his sudden return to Indian in early 1946 electrifies the nation. His transparent personal integrity, unswerving commitment to secularism and proclaimed passion for modernity cuts across caste, religious and linguistic barriers. Thus, Bose is able to attract millions, irrespective of their age and sex, to his side. Their support enables him to win Gandhiji.s approval, confront the internal forces, which want secession, and to defeat external powers that want to partition the country. After the departure of Lord Mountbatten, the last Viceroy of India, and Gandhi's assassination, a bloody civil war takes place in which Bose plays the role of an Indian Abraham Lincoln. The death of Mr. M.A. Jinnah brings this war to a close.
作者簡介
Lieutenant General Eric A. Vas
Born 1923. Died 2009
In his long career of 39 years, he founded army' prestigious College of Combat. He retired as General Officer Commanding-in-Chief Eastern Army in 1981.After his retirement, he authored several books on Security, Insurgency, Terrorism, Military History and Travel. Books include Violence in Society: The Formative Years [1985] Terrorism & Insurgency: A Challenge of Modernization [1987] The Search for Security: Controlling Conflict & Terrorism [1989] Without Baggage: A Personal Account of the J & K Operations 1947-1949, reprinted [2001] Dragon Kingdom: Journeys Through Bhutan [1986] Fools & Infantrymen: One View of History-1923-1993 [1995] Bose: A Biography, Lancer Publication , June 2005.

Colonel Anil A. Athale
Born in 1947 the author was a Research Fellow of United Services Institute, IDSA, President Kennedy centre. Formerly Joint director War studies division in ministry of Defense, after 22 years service in infantry, took to full time career as a military historian. He has authored official history of Sino Indian War 1962. He has
章節
Cover Page(p.navpoint-1)

Title Page(p.navpoint-2)

Copyright(p.navpoint-3)

Contents(p.navpoint-4)

Foreword(p.navpoint-5)

Chapter 1. Mission India(p.navpoint-6)

Chapter 2. Japan Sues For Peace(p.navpoint-7)

Chapter 3. A Death is Announced(p.navpoint-8)

Chapter 4. Undecided About the Future(p.navpoint-9)

Chapter 5. Refuge in Sumatra(p.navpoint-10)

Chapter 6. Sumatra to Ceylon(p.navpoint-11)

Chapter 7. Return to India(p.navpoint-12)

Chapter 8. Admiral Lord Mountbatten Takes Over as Viceroy(p.navpoint-13)

Chapter 9. Bose Moves To Bengal(p.navpoint-14)

Chapter 10. The Gathering Storm(p.navpoint-15)

Chapter 11. London Promises Dominion Status(p.navpoint-16)

Chapter 12. Bose Takes Over as Prime Minister(p.navpoint-17)

Chapter 13. Jinnah's Unilateral Declaration of Independence(UDI)(p.navpoint-18)

Chapter 14. Final Push for Victory(p.navpoint-19)